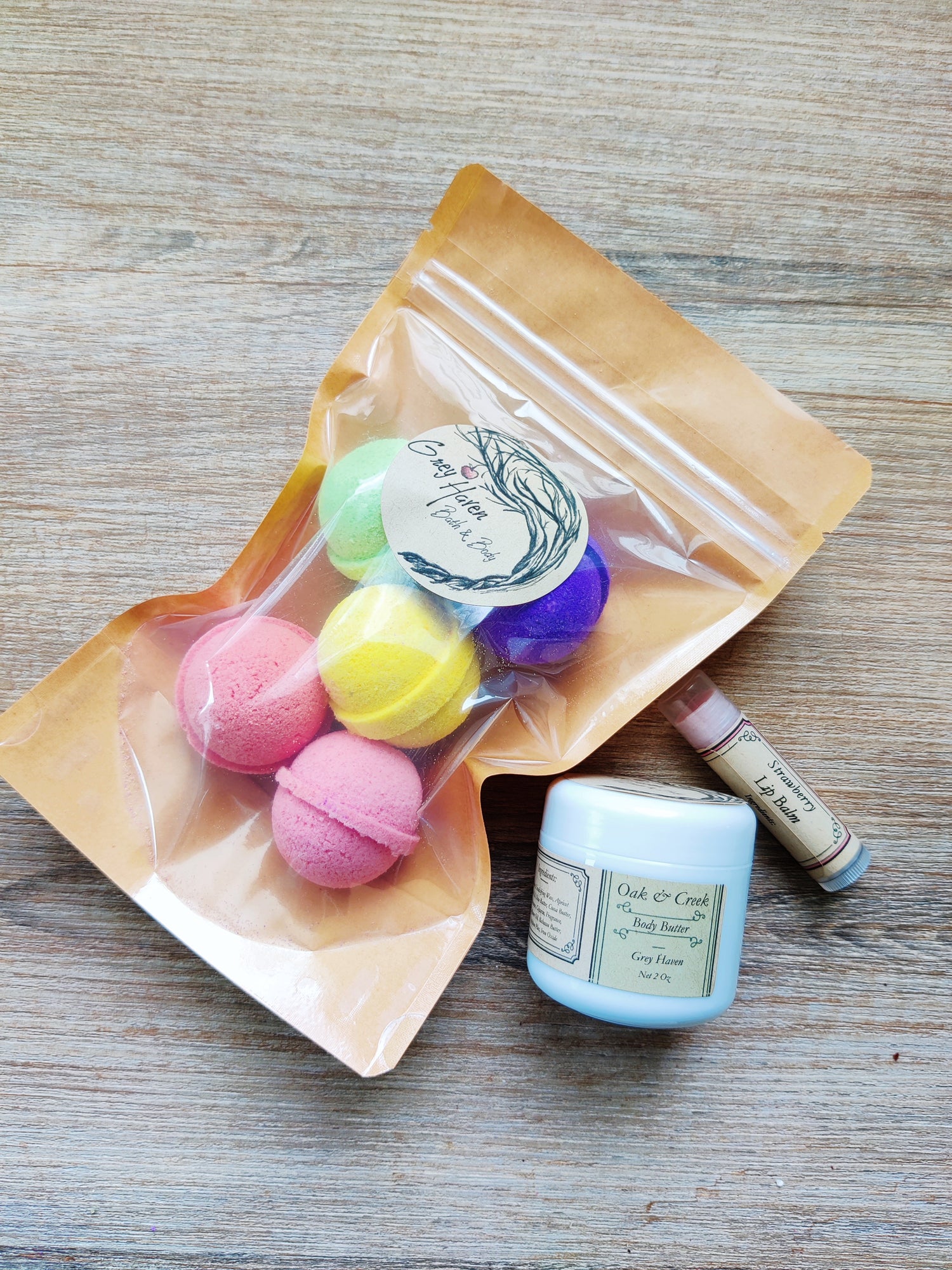 What goes into our products?
We believe in transparency about what we put in our products. As such, this page is dedicated to inform you of the roles our different ingredients play. Best of all, our products are Sulfate, Phthalate, and Paraben Free!
Safflower Oil
Our star ingredient in the majority of our products, Safflower has been used in diet, dyes, and skincare for the last 4000 years! This oil has rich antioxidant and anti-inflammatory properties, along with being non comedogenic (doesn't block pores), which makes it great for all skin types. It absorbs fairly quickly into skin and hair without a heavy oily residue left behind.
-----------------------------------------
Other Ingredients
Baking Soda: Acts as a reactant when combined with citric acid to create the "fizzing" effect found in bath bombs & shower steamers. Also helps to reduce skin irritation and inflammation.
Citric Acid: Acts as a reactant when combined with Baking soda to create the "fizzing" effect.
Cornstarch: Helps slow down the reactant speed between the Baking soda and Citric acid, so your bath bomb & shower steamer lasts longer. Also helps to reduce skin irritation and itchiness.
Cream of Tartar: Helps create a "silkier" water texture with bath bombs and cleanses skin.
SLSa (Sodium Lauryl Sulfoacetate): Creates thick and luxurious bubbles in a bath bomb, while being gentle on skin as it cleanses. This product is derived from coconut and palm oils, and not to be confused with it's cheaper counterpart, SLS!
Kaolin Clay: Is a gentle cleanser and exfoliant, as well as helps improve skin elasticity.
Epsom Salts: Soothes aching muscles, relieves tension, exfoliates skin, and can help treat body acne.
Bio Glitter: Just like the name says! These plant-based glitters are biodegradable. So not only is it better for the environment after use, but the product itself is made sustainably!
Polysorbate 80: Is a vegan emulsifier that allows the oils and colours in our products to disperse evenly through the water, rather than clinging to the surface (making sure your skin is immersed in the beneficial oils). As a bonus, this property also prevents the colours from sticking to your bathtub!
Coconut Oil: A super nourishing oil that deeply hydrates and smooths your skin, while calming redness and acting as an antioxidant.
Isopropyl Alcohol: Creates a firmer bath bomb without causing it to react prematurely during the production process.
Witch-hazel: Creates a firmer shower steamer while also adding enough moisture in the mixture to allow the ingredients to bind together properly.
Vegetable Glycerin: Used in our body butters, vegetable glycerin is derived from plant oils rather than animal products. It is a natural humectant (draws water to the skin) and helps to thicken lotions.
Emulsifying Wax: Also used in our body butters, our emulsifying wax is plant based and serves as an emulsifier, thickener, and stabilizer. This wax is composed of Cetearyl Alcohol and Polysorbate 60
Cocoa Butter: Known for its ability to hydrate, nourish, and improve elasticity for skin, cocoa butter is high in fatty acids and forms a protective barrier over the skin to lock in moisture.
Shea Butter: Alongside being very moisturizing, good for all skin types, and non-greasy, shea butter is also an antioxidant, anti-inflammatory, antibacterial, and antifungal. An awesome butter all around with a wide range of use and application.
Babassu Butter/Oil: Similar in properties to coconut oil, babassu butter & oil absorbs faster into the skin and won't clog your pores!
Apricot Kernel Oil: Rich in vitamin A, apricot kernel oil helps improve skin tone, and maintains the natural softness and radiance of skin.
Beeswax: Used as a thickener and stabilizer in our body butters, deodorants, and lip balms, beeswax also helps to seal in moisture to the skin and creates a protective layer.
Optiphen Plus: A liquid preservative used to inhibit the growth of bacteria, yeast and mold. This awesome preservative is also paraben and formaldehyde free! To note, any product that incorporates water HAS to use a preservative to prevent growth of bacteria. Natural "preservatives" such as vitamin E extract and grapefruit seed extract help increase the shelf life of carrier oils in products, but do not protect against bacteria, yeast, or mold growth in products with water.
Sweet Almond Oil: Almond oil absorbs quickly and is a powerful moisturizer, so it can be used on the face or body. It also can improve complexion and skin tone. It's highly emollient, which means it helps to balance the absorption of moisture and water loss.
Sodium Lactate: Derived from the natural fermentation of sugars found in corn and beets, sodium lactate is the sodium salt of lactic acid. It is often used in cold process soap to speed up unmolding time. The result is a harder and longer lasting bar of soap.
Zinc Oxide: Useful in both natural deodorant and sunscreens, zinc oxide has UV blocking capabilities, as well as antimicrobial properties. We use zinc oxide in our deodorant rather than baking soda, as it does not cause skin irritation and is up to 3x more effective than aluminum chlorhydrate (the bad stuff) used in deodorants and antiperspirants in fighting BO.
Arrowroot Powder: Often a substitute for cornstarch, arrowroot powder is great at absorbing sweat and body odor! It is also good for sensitive skin and treating skin irritations (especially razor burn)!
Vitamin E extract: Along with helping to protect skin from environmental factors, vitamin e extract is often used to preserve the shelf life of carrier oils in different products.